EER500
Introduction to Education Research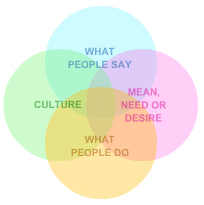 "Qualitative Research is primarily exploratory research. It is used to gain an understanding of underlying reasons, opinions, and motivations. It provides insights into the problem or helps to develop ideas or hypotheses for potential quantitative research." (Wyse, 2011).
Qualitative research takes us beyond the research lab into the world to ask questions, to understand, to describe and sometimes to explain social phenomena (Flick, 2007):
by investigating and analysing the experiences of individuals or groups
by analysing interactions and networks
by analysing documents or other evidence of experiences and interactions
Qualitative research accesses experiences and the concepts to be studied can be developed and refined as the research is conducted. Methods and theories should be appropriate to what is being studied and allow for adaptation or development of new methods to meet the needs of the subject.
In qualitative research, the researchers themselves are important to the process and their set of personal experiences may impact on how the research is conducted. How they respond in the field may impact on the quality of the results achieved.
Qualitative research is often based on case studies or a series of case studies, and often the case (its history and complexity) provides context for analysing the data.
The reliance on documentation in qualitative research often requires transformation of complex situations into text and include challenges of transcribing and writing about these social situations. This requires the researcher to have a set of skills in this regard.
Assessing the quality of qualitative research requires investigation of methodology and capabilities of the researchers involved.
References
Flick, U. (2007) Designing qualitative research. London : SAGE Publications Ltd.
Wyse, S. (2011) What is the difference between qualitative research and quantitative research? [online] Available at: http://www.snapsurveys.com/blog/what-is-the-difference-between-qualitative-research-and-quantitative-research/