A reflection on ETL504.
Learning is social.
Learning happens in context.
Learning about the Teacher Librarian(TL) as Leader happens, for me, within the context of completing a Masters of Education by distance education while adjusting to a new position in a new school, and all the myriad of challenges that lie within that context. The learning modules, readings, videos, forums, online meetings, assignments, resulting expansion of my PLN… that have come with this subject, have acted to inspire and excite me with the potential of the role, of TL as leader, that has been revealed. Reflecting on this learning here gives me a chance to embrace this opportunity and formulate a cunning plan. I'll just choose a few highlights to fit into 800 words!
To measure my change I needed a snapshot of my thinking at the commencement of this subject so I sat down and wrote about what leadership looked like for me in schools and was immediately concerned – all the evidence pointed to the role of Teacher Librarian being under-utilised and poorly understood. I realised that my own approach to leadership in schools was stuck in the mud of position titles and traditional role assumptions, and this course was expecting a huge shift in those assumptions (Hogg, 2015b). I'd never taken the time before to read about Leadership Theory… and had neglected my own professional development because I really hadn't engaged with research and literature about either leadership or pedagogical theory and practice, with any depth, since my bachelor degree days – decades ago. Sure I've read lots of blog posts about connectivism and done a MOOC on constructivism… but hadn't really taken the time to think deeply about what these theories mean for libraries and learning. I hadn't found my own Zone of Proximal Development (Moore, 2012).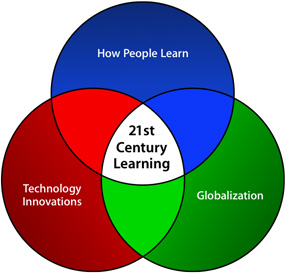 Applying what I was learning and analysing my own school situation led me to explore distributed leadership (Spillane, 2006) theory in more depth. This perspective on leadership helped me to get beyond the reliance on the transformational leadership of a hero-Principal, and begin to unpack the implications for effective 21st century school leadership (Crowther, 2009; Bennett et al, 2006) – to understand Teacher as Leader  and Leading for Learning.
In addition to completing the well structured learning modules and required readings of the course, I also found I needed to investigate in more detail the aspects of emotional intelligence required for leadership (Hogg, 2015a), the link between leadership, andragogy and provision of high quality professional development (Hogg, 2015d) and the imperative for change in instructional leadership – which led me to explore the concept of the teaching gap (Hogg, 2015c). All of which are aspects of leadership for learning that need to be incorporated into the modern role of the Teacher Librarian.
In addition to these broad theoretical structures, the course also provided learning about the important aspects of communication for building relationships and collaborative partnerships, negotiation and conflict resolution (including the self learning of completing a questionnaire about approaches to managing conflict), and designing communication processes. This led to an introduction to strategic planning.
Developing a recipe for achieving an intended outcome in our school requires the development of a clear vision and mission, a practical strategic plan, a set of activities that reveal the plan, and the nurturing of a commitment to that plan (Matthews & Matthews, 2013). A leader needs direction and this is created through analysis using models such as SWOT (Olsen, 2008) and STEEP (Watt, 2011) and managing change using frameworks like Kotter International's 8 Step Process (Kotter, 2015) and the Concerns Based Adoption Model (CBAM) (SEDL, 2014).
The clarity achieved now is an understanding that leadership requires vision, trust, modeling, consideration of and empowerment to others, negotiation and communication (Collay, 2011). The TL must provide passion, commitment and direction in order to lead from the middle (Sinek, 2010; Donham, 2005). The collaborative creation of a vision statement and development of a strategic plan will inspire change and drive adaptation of the school library to the needs of twenty-first century learning and learners.
With all this food for thought, I felt prepared to address the challenge of the second assignment and begin to formulate a cunning plan to innovate the role of teacher librarian in my school… which is the goal of this mission. I am on a quest to incorporate our library into a renewed vision for twenty-first century learning in my school… and so it begins.
————————–
References: 
Bennett, N., Crawford, M,, Cartwright, M. (2003) Effective educational leadership. London: Paul Chapman Publishing
Collay, M. (2011). Everyday teacher leadership: Taking action where you are. Wiley, Hoboken.
Crowther, F. (2009) Developing teacher leaders – how teacher leadership enhances school success Thousand Oaks, CA: Corwin Press
Donham, J. (2005). Leadership. In Enhancing teaching and learning: a leadership guide for school library media specialists (2nd ed.) (pp. 295-305). New York: Neal-Schuman Publishers.
Hogg, D. (2015a) Goleman on Leadership. [online] Retrieved from http://thinkspace.csu.edu.au/debhoggoz/2015/09/12/goleman-on-leadership/
Hogg, D. (2015b) "I know all that, tell me how!". [online] Retrieved from http://thinkspace.csu.edu.au/debhoggoz/2015/09/09/i-know-all-that-tell-me-how/
Hogg, D. (2015c) Instructional leadership and the teaching gap. [online]  Retrieved from http://thinkspace.csu.edu.au/debhoggoz/2015/09/28/instructional-leadership/
Hogg, D. (2015d) Semadeni on professional development. [online] Retrieved from  http://thinkspace.csu.edu.au/debhoggoz/2015/09/27/semadeni-on-professional-development/
Kotter, J. (2015) The 8 step process for leading change. [online] Retrieved from http://www.kotterinternational.com/the-8-step-process-for-leading-change/
Matthews, S.A. & Matthews, K.D. (2013) Crash course in strategic planning. Santa Barbara, CA: Libraries Unlimited.
Moore, A. (2012) Theories of teaching and learning. Teaching and learning: Pedagogy, curriculum and culture (2nd ed., pp. 1-30). London: Routledge
SEDL (2014) Concerns-based adoption model [online] Retrieved from http://www.sedl.org/cbam/
Spillane, J.P. (2006) Distributed leadership. San Francisco: Jossey-Bass