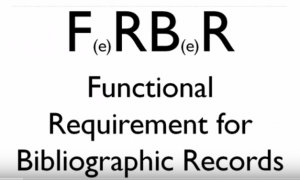 FRBR is a conceptual model to explain the bibliographic universe – it's a way to understand the relationship between books (and other types of resources). It was a recommendation of the International Federation of Library Associations and Institutions (IFLA), in 1998, to restructure catalog databases to reflect the conceptual structure of information resources.
FRBR is a way to look at the data in bibliographic records, and it's based on an established technique for modelling databases. The structure of RDA(Resource Description and Access) is built on the FRBR model.
FRBR asks basic questions:
what are the different things – the essential, separate entities – we are trying to describe in catalogues?
how are those different things related?
Work > the main intellectual and creative content > author
Expression > people who help to realise the work > editor, translator, performer
Manifestation > the publication and distribution of physical things > publisher – specific published run of a specific edition of a work
Item > owner of copy – each item/copy in our holdings, can be talked about separately from the manifestations.
Once FRBR separates out all these entities, relationships between those entities, and other entities that are responsible for them, can become easier to see. FRBR does not dictate how to encode this or display this information, it just says that these relationships exist.
User tasks:
FRBR language:
References:
Brenndorfer, T. (2012) RDA in 10 easy steps. [online]. Available at
www.youtube.com/watch?v=D3hafSNH_3A
Lorenz, A. (2012) FRBR simplified. [online]. Available at www.youtube.com/watch?v=LPBpP0wbWTg